The One (The Selection #3) by Kiera Cass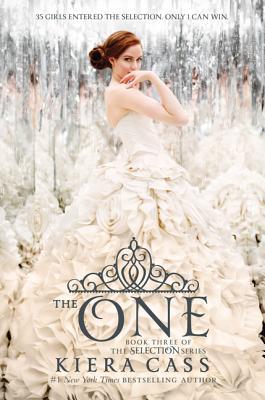 Hardcover, 323 pages
Published May 6th 2014 by HarperTeen
Source: The Library
The time has come for one winner to be crowned.

When she was chosen to compete in the Selection, America never dreamed she would find herself anywhere close to the crown—or to Prince Maxon's heart. But as the end of the competition approaches, and the threats outside the palace walls grow more vicious, America realizes just how much she stands to lose—and how hard she'll have to fight for the future she wants. – Goodreads
My Opinion:  This was interesting. It has been a while since I last read the first two books in the series and the progression of events in The One was I feel like sorta of how a relationship is supposed to progress however, there were some plot points that were a little extreme. The extremism is reasonable considering the danger the main characters are thought to be in.
What I found really interesting was that the although Prince Maxon isn't aware of the relationship between America and one of the guards was that when he does find out he is so insecure about his whole relationship with her. Oh and don't get me started on the King and his need to control every aspect of the people's lives and that of the girls participating in the selection.
There were some plot twists that were kind of fun and unexpected and some that were not. but overall the book was okay. I think it wrapped up the character stories pretty well and the story itself ended as I thought and assumed it would.
Overall: 3 out of 5