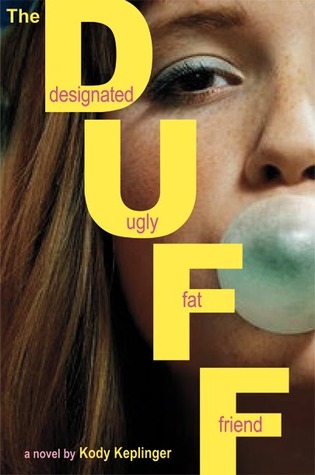 The Duff: The Designated Ugly Fat Friend by Kody Keplinger
Hardcover, 280 pages
Published September 7th 2010 by Little Brown/Poppy (first published 2010)
Source: Library
Seventeen-year-old Bianca Piper is cynical and loyal, and she doesn't think she's the prettiest of her friends by a long shot. She's also way too smart to fall for the charms of man-slut and slimy school hottie Wesley Rush. In fact, Bianca hates him. And when he nicknames her "the Duff," she throws her Coke in his face.

But things aren't so great at home right now, and Bianca is desperate for a distraction. She ends up kissing Wesley. Worse, she likes it. Eager for escape, Bianca throws herself into a closeted enemies-with-benefits relationship with him.

Until it all goes horribly awry. It turns out Wesley isn't such a bad listener, and his life is pretty screwed up, too. Suddenly Bianca realizes with absolute horror that she's falling for the guy she thought she hated more than anyone. – Goodreads
My opinion: I laughed, I cried, I swore along with the Bianca. This book was so funny as times that I was laughing while at work from reading. I probably looked crazy. Wes was an interesting character, so well liked by everyone but in trouble. Bianca was sassy and a strong female character that I enjoy to read about. She is complex and her relationships with her friends and parents seem very interesting and complicated.
The relationship she has with her dad seems to be one that is very complex. At times, Bianca seems to be the adult. This can be seen especially when her dad finds out that her mother wants a divorce and he kind of loses his mind a little and becomes an alcoholic. Her relationship with her mom is also one that is almost none existent and she travels and doesn't really communicate with Bianca. Based on the facts that her mom wasn't really there for her and also that her dad isn't that attentive, signifies that Bianca had to grow up quickly.
The group of friends she has seem to be a great support system for her that is until Wes mentions how she is their Duff and then she begins to question them a little and stops to talk to them as much as she used and they feel left out.
Her relationship with Wesley is also very sexual and it mostly begins to be like that because an ex of Bianca's makes an appearance in town and she doesn't want to deal with the way that the relationship ended and what happened during. The reason Wes agreed is because he is having problems with his parents not being present in his life and he is feeling lonely.
Overall this book has its ups and downs. I loved the way that characters interacted with each other and I also love the way that they came together. I also really liked the way that Bianca figured out what she wanted out of her relationships and she realized who was important in her life and how to balance those relationships (especially her parents).
4.5 out 5
I am planning on watching the movie once more to do a review of it and try to do a comparison to see what has changed from the book to the movie adaptation.